Jeff's Judgement ... Which Funding Options are Available for my Next Used Car?
At Rivervale, our Used Vehicles Director Jeff has over 30 years experience in the motor trade and is always ready to offer a little advice. This month Jeff is looking at all the options available to customers when they are considering how to fund their next pre-owned car …
"Once upon a time, when you wanted a new car you would save up until you had enough money to make that purchase. Now, customers can skip the saving step and get straight on the road using one of the many finance products available.
View Rivervale's Approved Used Vehicles
Finance products are more commonly associated with brand new cars, but also apply to pre-owned vehicles. Everybody knows that a new car will lose a lot a value shortly after it is registered and driven, as it quickly becomes a second hand vehicle. There are many people who are not concerned about having the latest number plate, and for these people a used car will offer better value for money no matter how you choose to fund your vehicle.
Here are funding options available to anyone considering how to finance their next pre-owned car;
Outright Purchase
This is simply paying for a vehicle in one lump sum. The car is instantly yours, you have no monthly payments to make and are free to sell the car whenever you like.
However, an outright purchase is not suitable for all drivers, you could choose to pay monthly for your next car with one of the following finance products;
Hire Purchase (HP)
With Hire Purchase you are spreading the total cost of your car over monthly payments. To begin with, you may need to make a deposit, then the remaining value of the vehicle will be spread over equal monthly payments. When the final payment has been made you will be the legal owner of the car.
Personal Contract Purchase (PCP)
In a Personal Contract Purchase you will be entering into a finance agreement with a funder. There are three parts to payments using this method. An initial larger payment may be required to begin with, there will then be fixed monthly payments, followed by a larger final payment often called a 'balloon payment'. The balloon payment reflects the guaranteed future value of the vehicle at the end of the contract, this is calculated based on your predicted mileage. In this way monthly payments made are usually lower than hire purchase, as part of the total cost is delayed until the final balloon payment.
Read more: Jeff's Judgement ... Should I Have a Company Car or a Car Allowance?
As the guaranteed future value is based partly on mileage, if you travel outside of the mileage agreed at the beginning of the contract, you will need to pay an excess mileage charge, if you want to hand the vehicle back.
When you finish your monthly payments, you can choose whether you want to make the final payment and become the legal owner of the car, or you can choose to hand the car back. This eliminates any risk surrounding the future value of the vehicle for you. The value of cars can be influenced by many economic factors, it may be by the end of your Personal Contract Purchase agreement the value of your vehicle is below that of the guaranteed future value, in this case you can choose to hand the car back. The risk is entirely the funders. If the value of your car has held better than expected, and is above that of the guaranteed future value previously agreed, you can choose to make the final payment, sell the car, and keep the profit. Your third option is to make the final payment and continue to drive your car without the need to make any further payments.
Lease Purchase (LP)
A Lease Purchase follows the same payment schedule as a Personal Contract Purchase with two major differences.
You will need to make the larger final payment

or use the value of the vehicle as a deposit for your next vehicle, there is no option to hand the vehicle back.

The future value of the car is not guaranteed. Selling your vehicle at the end of the agreement may not cover the cost of the final payment and you will be responsible for paying any shortfall.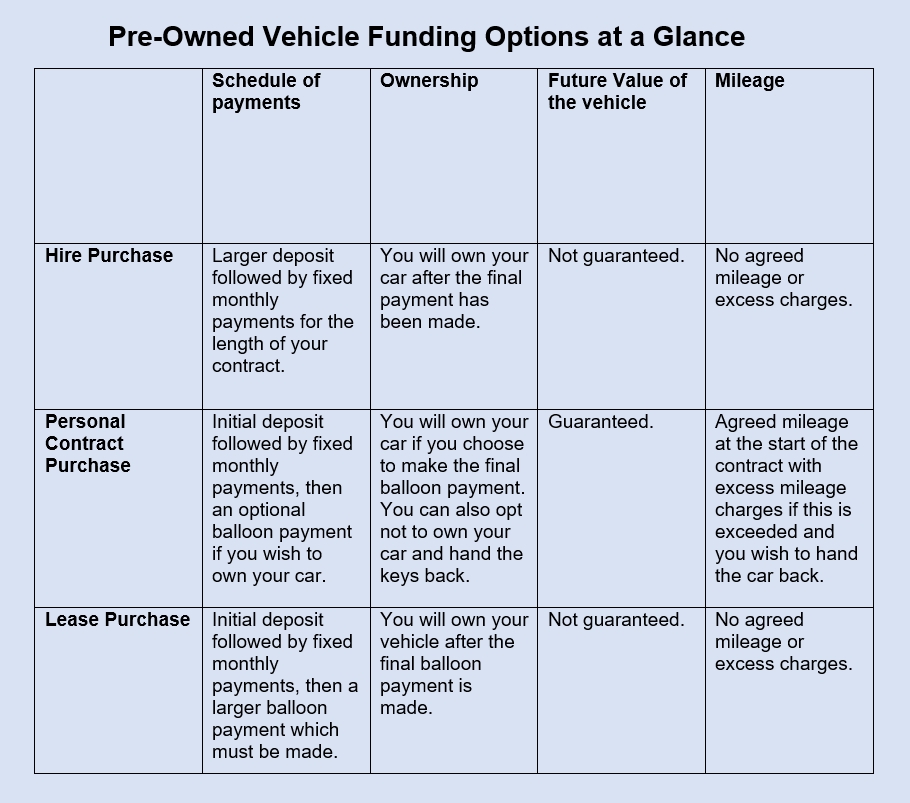 Finance products offer flexibility
Funders are making finance products increasingly accessible to customers. With the funders we use at Rivervale, providing you have an acceptable credit profile, you may not need to pay a larger initial deposit. This means there is no large initial financial outlay, the funder will cover 100% of the vehicle cost.
Funders are also increasing the age of cars they will provide finance for. Currently, it is possible to find a finance product for a vehicle up to 13 years old at the end of the agreement.
Funders additionally offer flexibility in how many months you would like to spread your payments over. Typically, payments can be made anywhere from 24 months to 60 months. You can also predict how many miles you are likely to travel over the course of the contract, ensuring no excess mileage charges (unless you go over the stated amount).
Lastly, you have the option to settle your agreement earlier than the original agreed contract length allowing you to move onto your next vehicle whenever you want to if your needs change. The amount outstanding on the agreement will need to be settled.
Personal Contact Purchase for high value vehicles
For those looking to drive an aspirational car, the way Personal Contact Purchase works creates a massive benefit. This is because, generally, high value cars will depreciate more slowly over the life of your contract and this results in lower monthly payments. It is certainly my experience that in the £15,000 - £35,000 bracket of cars on Personal Contact Purchase, prestige cars dominate the market. Personal Contract Purchase offers drivers the opportunity to drive a much higher quality vehicle that would otherwise be out of reach, that Mercedes-Benz or BMW may no longer need to be only a dream!

Financing a car has become as affordable and common as entering into a mobile phone contract. Fixed monthly payments allow drivers an easy way to budget and an affordable way to get on the road in a car they would not otherwise be able to drive. At Rivervale Approved Used Vehicles 70% of the cars we sell use one of the finance products we offer as the funding method. A further 20% are funded by a finance product from elsewhere, such as a bank loan, which leaves only 10% of cars purchased by paying the entire cost directly from the customers savings.

How to fund your next vehicle can be a complicated decision. If you are unsure, the Rivervale Approved Used Team are always happy to discuss your options with you based on your personal circumstances to make sure you get behind the wheel of a car you love!"
Leave a comment for your chance to win £20 of High Street Vouchers. Each month we pick our favourite comment from the previous month - get involved for your chance to win...
The comments above do not necessarily reflect Rivervale's views unless clearly stated.