Jeff's Judgement ... Car Warranties
This month our Used Vehicles Director Jeff takes an in depth look at car warranties...
"I have always said in many ways a vehicle is like a light bulb. You can be sat there and all of sudden without warning 'ping' and the light bulb blows. The same can happen with any vehicle, whether you are driving along, and a fault appears without warning, or whether you have just used your car 10 minutes ago and now it won't start. It is a nightmare situation for any driver that you cannot predict. A warranty can help a little by providing the comfort of knowing the problem will be fixed.
What is a warranty?
A warranty will generally cover the cost of mechanical and electrical failure, usually including the cost of replacement parts and labour.
A warranty will never cover any fault due to normal wear and tear of the vehicle or any damage caused by user error or outside influence such as damage.
So, if your wiper blades need replacing it will be at your own cost as these are wear and tear items, but if the motor controlling your wiper were to malfunction this would likely be fixed under warranty as it is a mechanical fault.
View our Range of Used Approved Vehicles
There are 2 main types of warranty, those provided with a brand-new vehicle which are the manufacturer's warranty and those available for a used vehicle.
Manufacturer's Warranty
When you purchase a brand-new car the manufacturer's warranty will cover you, these all tend to be very similar and will cover almost all mechanical and electrical faults. The cost of this warranty will be included in the price you pay for the vehicle, you do not have to ask for it, you will automatically be covered. Normally a manufacturer's warranty will run for 3 years from when the vehicle was first registered.
There are likely to be conditions that need to be adhered to for the manufacturer's warranty to remain valid. One common clause is that genuine replacement parts are used during any servicing or repairs you undertake. You are also likely to need to keep up with the servicing schedule recommended by the manufacturer.
If you sell your vehicle before the manufacturer's warranty runs out, this will be transferred to the new owner.
Read more: Jeff's Judgement ... Should I Have a Company Car or a Car Allowance?
Used Vehicle Warranty
A warranty on a used vehicle is normally 3 or 6 months depending upon the dealer's criteria. Although any vehicle can experience a fault, the chances of this happening do increase as a vehicle ages so many people do choose to pay for an extended warranty on top of what they receive within the vehicles purchase.
What is covered by a warranty on a used vehicle will and can vary wildly. There are often many different levels of cover offered by sellers, so it is important to read what is included at each level to make sure you have adequate cover for your vehicle. For instance, many standard warranties will not cover any 4x4 technology or satellite navigation systems, this is fine if they are not included on your car but could be expensive to fix if they are and you are not covered.

It is also important to understand how long the period of cover lasts for, how much you can claim for at one time as well as how much the labour costs are for your vehicle. Imagine you drive an Aston Martin and have taken out standard warranty cover which allows for a maximum of a £500 claim at one time. If there is then a failure and the part costs £500, then you have reached the maximum amount for your claim before the labour charges have even been considered. Therefore, if the warranty allows a labour rate of say £50.00 but the repairing garage has a labour rate of £80.00 you will have to cover the difference.
What will probably never be covered by a used vehicle warranty is the same as a manufacturer's warranty - any fault due to normal wear and tear of the vehicle or any damage caused by user error.
Read more: Jeff's Judgement ... Which Funding Options are Available for my Next Used Car?
Rivervale Warranty
A used vehicle warranty will normally be supplied by an insurance company. At Rivervale we were finding involving a third party in this way could lead to a bad experience for our customers. It increased the length of time customers were waiting for repairs and confirmation that these would be paid for, so we have launched our own Rivervale warranty. We have found we can provide a faster service and the customer can speak directly to the people who are fixing their car whether it be with us or nationally.
As standard at Rivervale we will provide all customers who purchase one of our used approved vehicles a 6-month warranty. For an additional cost this can be extended to 12 months and includes additional cover for items such as wheel bearings, fuel injection systems and suspension. The maximum cover available is Driver Optional Cover where 4x4 systems and turbochargers can be covered.
No matter who you are getting your warranty with, the most important thing to remember is to read and understand exactly what is covered"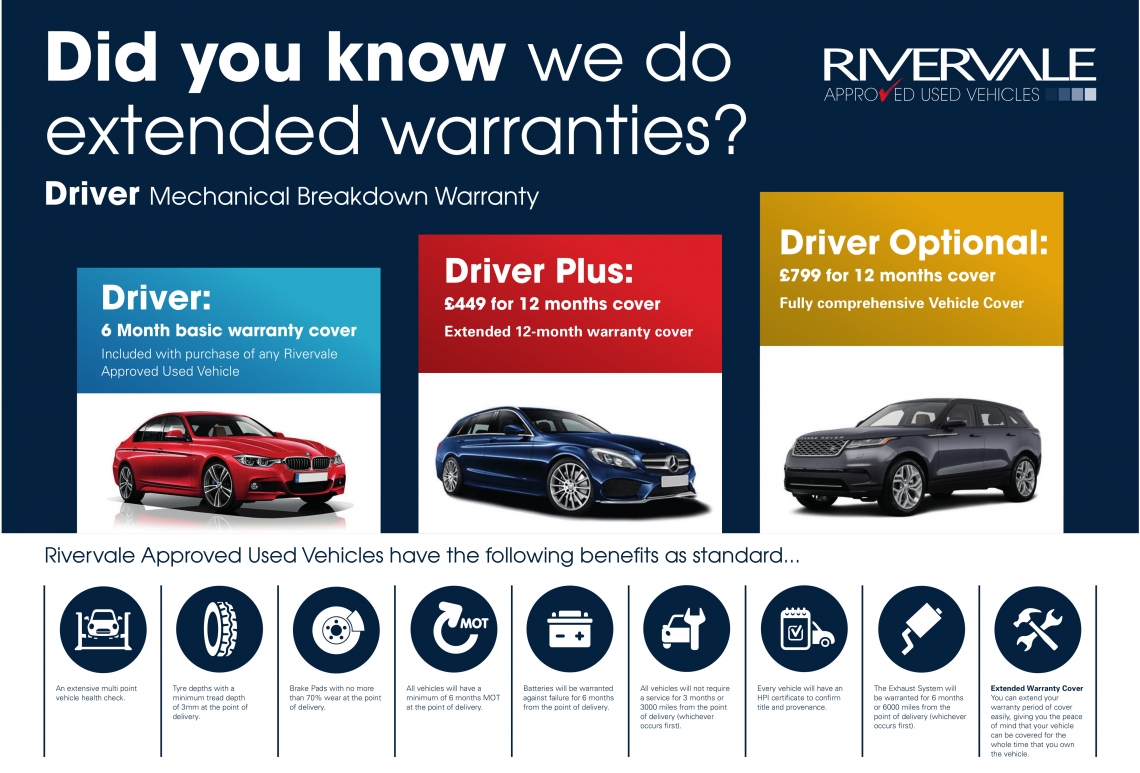 Leave a comment for your chance to win £20 of High Street Vouchers. Each month we pick our favourite comment from the previous month - get involved for your chance to win...
The comments above do not necessarily reflect Rivervale's views unless clearly stated.
Opinion
13 July 2018
Written by Natalie Faughy